Vol. 3 (2018): TEACHING AND PROJECTS OF ARCHITECTURE SCHOOLS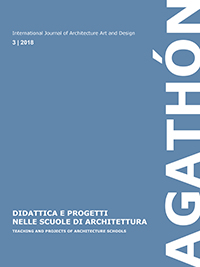 AGATHÓN issue number 3 aims to promote the debate between Teachers, Scholars and Designers on the following questions: What will the new architecture be like in this third millennium? In a national and international context, where Architecture – in its more basic core – seems to be a forgotten art, where the urban landscape is degraded and marked by a tired and worn rationalism, where only the Starchitect's work stands out, what can be done? What task will the education places have in this complex scenario, with technological and immaterial innovation, but also with cultural and material backwardness? Are Architecture Schools modernizing? Do they have adequate strategies for the new era and for diverse contexts?
In the editorial of AGATHÓN 2, Alberto Sposito brought to the attention of the readers some doubts that re-emerge in the subjects addressed in this issue: «does Architecture still exist as an artistic practice? Is art inexorably disappearing in the shadow of the so-called Starchitects? Which languages, forms and expressions can originate from the innovation of processes, materials and products, in response to the current needs of a simultaneous economic, social and environmental sustainability? Are the education and teaching systems of Architecture Schools adequate for the various contexts, given the social, political, cultural, economic (and even moral) status, in which we are? Is University able to communicate effectively and correctly to the citizens of tomorrow? Finally, starting Industry 4.0, or better Building 4.0, the rules and procedures related to the project are appropriate and correct or represent oppressive and malefic constraints?». The answers received to the many questions were numerous, had interesting contents and highlighted the differences or connections between the different national and international Schools of Architecture, Engineering and Design.
It is recommended and necessary «a broad and open dialogue between people in institutions, research, and in the academic, professional and productive worlds, interested in anticipating strategies and implementing actions aiming to offer new competences, to raise the quality of the project and the built works, to rethink the forms of knowledge and the cognitive status of the project» (taken from the presentation at the International Conference La Produzione Del Progetto, SITdA and dArTe, Università Mediterranea di Reggio Calabria, 14-15 June 2018). Maybe the writer of this editorial will never see or participate as a teacher to the results of the new education settings originating and starting from the path of Industry 4.0 or leading towards a new type of Architecture or Design, more aware and respectful of the environment but especially of individuals, trying to remove the curses that complex bureaucratic structures have started to build around education, knowledge and cultural consciousness of future designers.
Full Issue