The role of didactics in the post-digital age
Keywords:
post-digital, technological innovation, digital computing, digital fabrication, master builders
Abstract
The birth of the first robotic manufacturing laboratory in 2005 at the Federal Polytechnic School of Zurich, ETH, under the direction of F. Gramazio and M. Kolher marked a new course for digital architecture manufacturing. The potentialities of this design methodology are investigated with respect to different lines of research that have in common the development of processes related to the definition of informed architectures. One of the crucial aspects is related to teaching, which is fundamental for developing and structuring the necessary skills that future operators should possess to allow the dissemination of the theme in architectural and executive practice.
Downloads
Download data is not yet available.
Article Metrics Graph
References
Burry, M. (2012), "Models, Prototypes and Archetypes", in Sheil, B. (ed.), Manufacturing the bespoke, AD Reader, Wiley, pp. 42-58.
Campioli, A. (2005), "Idea progetto dettaglio", in Losasso, M. (ed.), Percorsi dell'innovazione, Clean Edizioni, Napoli, pp. 78-92.
Carpo, M. (2014), "Mario Carpo in conversation with Matthias Kohler", in Gramazio, F., Kohler, M. and Langenberg, S. (eds), Fabricate – Negotiating Design & Making, Gta-Verl, Zurich, pp. 12-21.
Celani, G. (2004), "The Symmetry Exercise: Using an Old Tool in a New Way", in SIGraDi.
De Saint Mihel, C. (2005), "L'innovazione dei processi costruttivi", in Losasso, M. (ed.), Percorsi dell'innovazione, Clean Edizioni, Napoli, pp. 97-105.
Duarte, J. (2007), "Inserting New Technologies in Undergraduate Architectural Curricula", in Predicting the Future, 25th eCAADe Conference Proceedings.
Menges, A., Sheil, B., Glinn, R. and Skavara, M. (2017), Fabricate rethinking design and construction, UCL Press, London.
Nagakura, T. (1998), Formal Design Knowledge and Programmed Construct, course thought at MIT. [Online] Available at: cat2.mit.edu/arc/4.207/ [Accessed 6 June 2018].
Özkar, M. (2007), "Learning by Doing in the Age of Design Computation", in Dong, A., Moere, A. V. and Gero, J. S. (eds), Computer-Aided Architectural Design Futures (CAADFutures), Springer, Dordrecht, pp. 99-112.
Paoletti, I. (2006), Costruire le forme complesse – Innovazione, industrializzazione e trasferimento per il progetto di architettura, Libreria CLUP, Milano.
Ratto, M. (2011), Open Design and critical making – Open design now: why design cannot remain exclusive, BIS Publisher, Amsterdam.
Sheil, B. (2012), Manufacturing the Bespoke, AD Reader, John Wiley and Sons, United Kingdom.
Terzidis, K. (2002), Algorithmic Architecture, course thought at GDS Harvard. [Online] Available at: www.gsd.harvard.edu/cgi-bin/courses/details.cgi?section_id=6847&term=f2004 [Accessed 6 June 2018].
Varinlioglu, G., Halıcı, S. M. and Alaçam, S. (2016), "Computational Thinking and the Architectural Curriculum: Simple to Complex or Complex to Simple?", in 34th eCAADe (Education and Research in Computer Aided Architectural Design in Europe) International Conference – Complexity and Simplicity, Oulu School of Architecture, Oulu, Finland.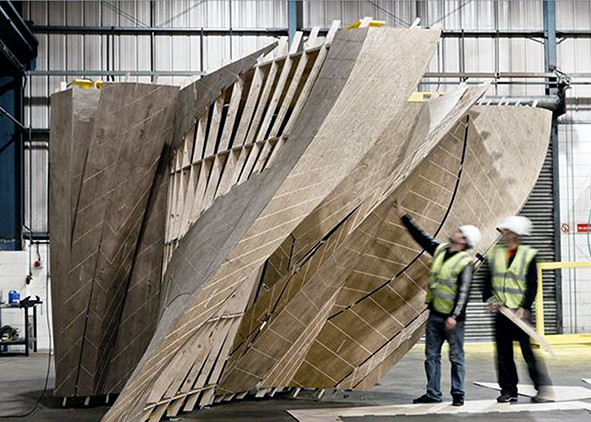 Downloads
How to Cite
Figliola, A. (2018) "The role of didactics in the post-digital age", AGATHÓN | International Journal of Architecture, Art and Design, 3(online), pp. 29–36. doi: 10.19229/2464-9309/342018.
Section
Architecture | Essays & Viewpoint
License
This Journal is published under Creative Commons Attribution Licence 4.0 (CC-BY).




License scheme | Legal code

This License allows anyone to:
Share: copy and redistribute the material in any medium or format.
Adapt: remix, transform, and build upon the material for any purpose, even commercially.

Under the following terms
Attribution: Users must give appropriate credit, provide a link to the license, and indicate if changes were made; users may do so in any reasonable manner, but not in any way that suggests the licensor endorses them or their use.
No additional restrictions: Users may not apply legal terms or technological measures that legally restrict others from doing anything the license permits.

Notices
Users do not have to comply with the license for elements of the material in the public domain or where your use is permitted by an applicable exception or limitation.
No warranties are given. The license may not give users all of the permissions necessary for their intended use. For example, other rights such as publicity, privacy, or moral rights may limit how you use the material.