Designing the identity
Keywords:
identity, design project, historical city
Abstract
Working on a project for historical cities requires to focus on the concept of place's own identity. In our society context, this is a cyclically dissolving and recomposing concept, composed by a mosaic of stakeholders with heterogeneous and conflicting interests. That's way it's necessary to assume a design attitude, when facing the concept of identity. The aim of the paper is discussing the theoretical foundation of the concept of identity, through a selection of significant contributions and case-studies. Additionally, the essay highlights weaknesses and potentialities of this concept, and reflects on the various directions the design project for historical cities can undertake.
Downloads
Download data is not yet available.
Article Metrics Graph
References
Choay, F. (2008), Del destino della città, Alinea, Firenze.
Curtis, W. J. R. (2006), L'architettura moderna dal 1900, Phaidon, London.
Di Franco, A. (2007), Agorà/quota zero: termini per il progetto dello spazio pubblico, Maggioli, Santarcangelo di Romagna.
Emery, N. (2007), L'architettura difficile. Filosofia del costruire, Marinotti, Milano.
Faroldi, E. (2016), "Architettura contemporanea: elemento di dialogo tra eredità e ibridazioni", in Techne, vol. 12.
Gregotti, V. (2011), Architettura e postmetropoli, Einaudi, Torino.
Gregotti, V. (1982), "L'ossessione della storia", in Casabella, n. 478.
Kubler, G. (1962), The shape of time, Yale University Press, New Haven.
Martí Arís, C. (1990), Le variazioni dell'identità: il tipo in architettura, CittàStudi, Milano.
Moneo, R. (2000), La solitudine degli edifici e altri scritti [vol. I]. Questioni intorno all'architettura [1976-1988], Allemandi, Torino.
Norberg-Schulz, C. (1992), Genius Loci: paesaggio, ambiente, architettura, Electa, Milano.
Purini, F. (1997), "La città narcotica", in Caputo, P. (ed.), Le architetture dello spazio pubblico. Forme del passato forme del presente, Electa, Milano, pp. 60-65.
Recalcati, R. (2014), "The Contemporary City in a Deceiving Search of Identity", in Bovati, M., Caja, M., Floridi, G. and Landsberger, M. (eds), City in transformation. Research & Design, Il Poligrafo, Padova, pp. 730-737.
Rogers, E. N., Tyrwhitt, J. and Sert, J. L. (1954), Il cuore della città: per una vita più umana delle comunità, Congressi internazionali di architettura moderna, Hoepli, Milano.
Rossi, A. (1978), Scritti scelti sull'architettura e la città, 1956-1972, CittàStudiEdizioni.
Secchi, B. (1986), "Progetto di suolo", in Casabella, nn. 520/521, pp. 19-23.
Tafuri, M. and Dal Co, F. (1976), Architettura contemporanea, Electa, Milano.
Toppetti, F. (2014), "Identity and Transformation. The Designing of the Historical Urban Landscape", in Bovati, M., Caja, M., Floridi, G. and Landsberger, M. (eds), City in transformation. Research & Design, Il Poligrafo, Padova, pp. 744-751.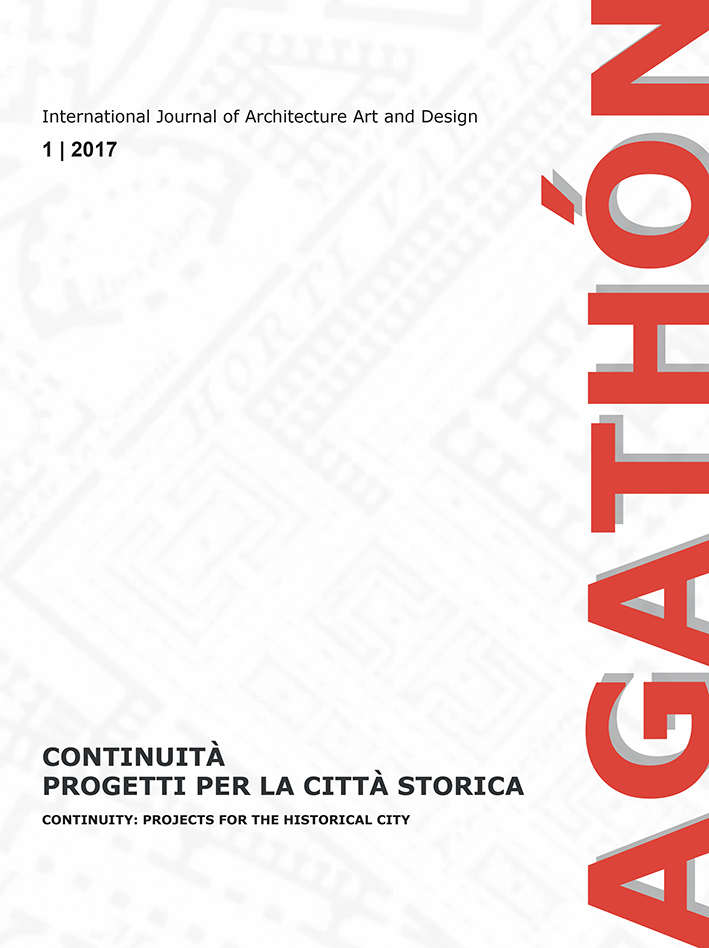 Downloads
How to Cite
Semprebon, G. (2017) "Designing the identity", AGATHÓN | International Journal of Architecture, Art and Design, 1(online), pp. 9–14. doi: 10.19229/2464-9309/122017.
Section
Architecture | Essays & Viewpoint
License
This Journal is published under Creative Commons Attribution Licence 4.0 (CC-BY).




License scheme | Legal code

This License allows anyone to:
Share: copy and redistribute the material in any medium or format.
Adapt: remix, transform, and build upon the material for any purpose, even commercially.

Under the following terms
Attribution: Users must give appropriate credit, provide a link to the license, and indicate if changes were made; users may do so in any reasonable manner, but not in any way that suggests the licensor endorses them or their use.
No additional restrictions: Users may not apply legal terms or technological measures that legally restrict others from doing anything the license permits.

Notices
Users do not have to comply with the license for elements of the material in the public domain or where your use is permitted by an applicable exception or limitation.
No warranties are given. The license may not give users all of the permissions necessary for their intended use. For example, other rights such as publicity, privacy, or moral rights may limit how you use the material.