New territories of design between artisan heritage and historical sites of the city
Keywords:
arts and crafts, old town, new technologies
Abstract
The rediscovery of craftsmanship transcends the boundaries of the economy and invites us to reflect on what may be today creativity. Over the next decade, the most brilliant innovators, who have visions of new products with the potential to change the future, will no longer have to entrust to others the realization of their ideas but may produce and distribute themselves, taking advantage of the web and new technologies. The project Crezi_Food_Kit moves within this system. It involves the old town of Palermo starting from food and it tries to create a supply chain whose products, support each other in search of a new way where tradition and innovation walk side by side.
Downloads
Download data is not yet available.
Article Metrics Graph
References
Anderson, C. (2013), Makers Il ritorno dei produttori Per una nuova rivoluzione industriale, Rizzoli, Milano.
Ashby, M. and Johnson, K. (2005), Materiali e Design, Casa Editrice Ambrosiana, Milano.
Claser, A., Fazioli, R. and Vecchia, P. (2014), Progettare la sostenibilità. La riflessione, la sfida, la progettazione, Libreriauniversitaria.it edizioni Webstersrl, Padova.
De Fusco, R. (2012), Op.cit. | rivista quadrimestrale di selezione della critica d'arte contemporanea, n. 143.
De Fusco, R. (1998), Storia del Design, Laterza, Bari.
Florida, R. L. (2003), L'ascesa della nuova classe creativa. Stile di vita, valori e professioni, Mondadori, Milano.
Fuad-Luke, A. (2003), Eco-Design. Progetti per un futuro sostenibile, Logos, Modena.
Grossi, F. (2015), Master & Maker. Artigianato e Turismo assieme nel web, GTC Editrice, Udine.
Maffei, S. (2011), "Artigiano oggi. Comprendere i processi innovativi contemporanei tra design, nuove forme di progetto e creatività ed evoluzione dei modelli di produzione", in Arquilla, V. (ed.), Intenzioni creative. Design e artigianato per il Trentino, Maggioli, Rimini.
Micelli, S. (2016), Fare è innovare. Il nuovo lavoro artigiano, Il Mulino, Bologna.
Micelli, S. (2011), Futuro artigiano L'Innovazione nelle mani degli italiani, Marsilio Editori, Venezia.
Sennett, R. (2009), L'uomo artigiano, Feltrinelli, Milano.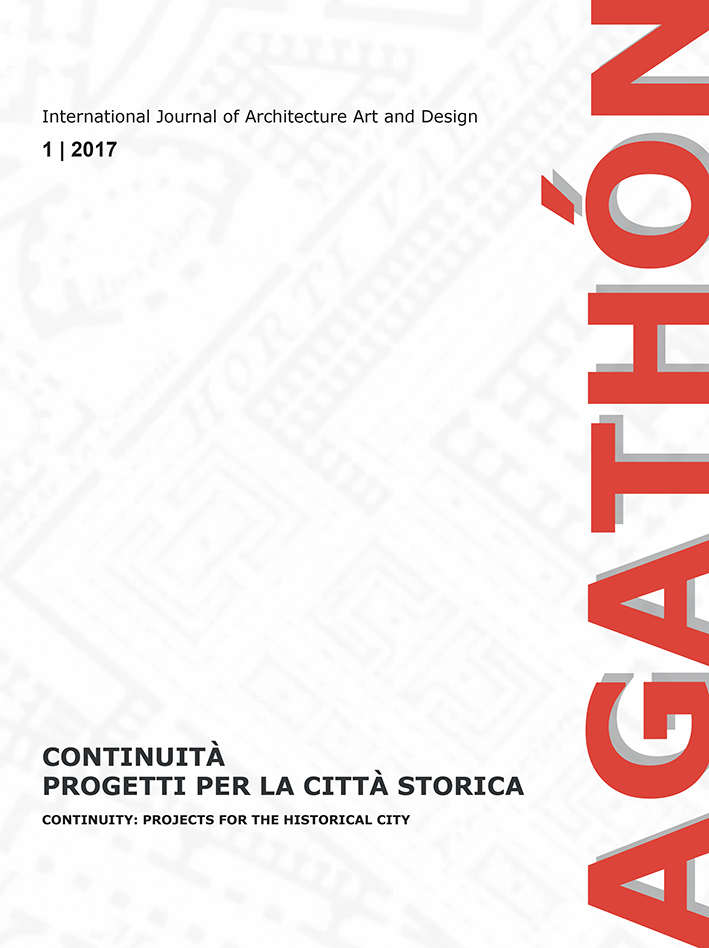 Downloads
How to Cite
Inzerillo, B. (2017) "New territories of design between artisan heritage and historical sites of the city", AGATHÓN | International Journal of Architecture, Art and Design, 1(online), pp. 129–134. doi: 10.19229/2464-9309/1202017.
Section
Design | Essays & Viewpoint
License
This Journal is published under Creative Commons Attribution Licence 4.0 (CC-BY).




License scheme | Legal code

This License allows anyone to:
Share: copy and redistribute the material in any medium or format.
Adapt: remix, transform, and build upon the material for any purpose, even commercially.

Under the following terms
Attribution: Users must give appropriate credit, provide a link to the license, and indicate if changes were made; users may do so in any reasonable manner, but not in any way that suggests the licensor endorses them or their use.
No additional restrictions: Users may not apply legal terms or technological measures that legally restrict others from doing anything the license permits.

Notices
Users do not have to comply with the license for elements of the material in the public domain or where your use is permitted by an applicable exception or limitation.
No warranties are given. The license may not give users all of the permissions necessary for their intended use. For example, other rights such as publicity, privacy, or moral rights may limit how you use the material.