The Piano Programma for Palermo and the PRG for Urbino
Keywords:
historic centre, strategy of routes, De Carlo
Abstract
A proper comparison between the Piano Programma for the historic centre of Palermo and town Planning schemes for Urbino would produce a strategy enabling experimentation in other cities with similar characteristics. The aim of both projects was to enable historic cities "to be in a position to re-enter the modern world" through planning and the 'rediscovery' of a system of routes capable of establishing ambits and diaphragms between privately-owned and collective space.
Downloads
Download data is not yet available.
Article Metrics Graph
References
Ajroldi, C. (ed.) (2014), La ricerca sui centri storici. Giuseppe Samonà e il Piano Programma per Palermo, Edaebook, Aracne, Roma.
Ajroli, C., Cannone, F. and De Simone, F. (1994), Lettere su Palermo di Giuseppe Samonà e Giancarlo de Carlo: per il Piano Programma del Centro Storico 1979-1982, Officina, Roma.
Alexander, C. (1967), Note sulla sintesi della forma, Il Saggiatore, Milano.
Alexander, C. and Chermayeff, S. (1968), Spazio di relazione e spazio privato: verso una nuova architettura umanistica, Il Saggiatore, Milano.
Angela, M. e Occhialini, E. C. (eds) (1995), Giancarlo De Carlo: immagini e frammenti, Electa, Milano.
Bartocci, G. (2014), L'Architettura della città di Urbino: da Francesco di Giorgio a Giancarlo de Carlo, Diabasis, Parma.
Bascherini, E. (2005), Codice genetico e progetto nella città storica. Nell'esperienza di Giancarlo de Carlo, Tipografia Editrice Pisa, Pisa.
Brunetti, F. and Gesi, F. (1981), Giancarlo de Carlo, Alinea, Firenze.
De Carlo, G. (1966), Urbino, la storia di una città e il piano della sua evoluzione urbanistica, Marsilio, Milano.
Di Biagi, P. and Gabellini, P. (1992), Urbanisti italiani: Piccinato, Marconi, Samonà, Quaroni, De Carlo, Astengo, Campos Venuti, Laterza, Roma.
Gimdalcha, I. (1995), Il progetto Kalhesa, Marsilio, Venezia.
Lefebvre, H. (1976), Il diritto alla città, Marsilio, Padova.
McKean, J. (2004), Giancarlo de Carlo: des Lieux, des Hommes, Paris: Centre Pompidou, Parigi.
Perin, M. (1992), "Giancarlo De Carlo. Un progetto guida per realizzare l'utopia", in Di Biagi, P. and Gabellini, P. (eds), Urbanisti italiani, Laterza, Bari.
Piano Programma del Centro Storico di Palermo (1985), supplemento a Progettare, n. 1, Architettura & Territorio Edizioni, Palermo.
Zucchi, B. (1992), Giancarlo de Carlo, Butterworth Architecture, Oxford.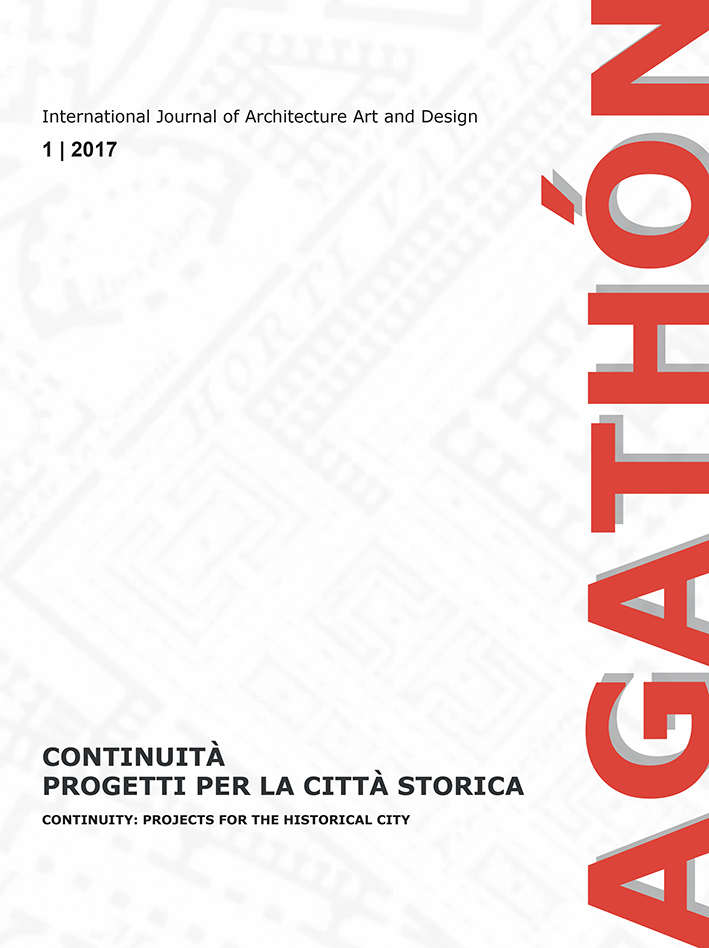 Downloads
How to Cite
Daidone, I. (2017) "The Piano Programma for Palermo and the PRG for Urbino", AGATHÓN | International Journal of Architecture, Art and Design, 1(online), pp. 35–40. doi: 10.19229/2464-9309/162017.
Section
Architecture | Essays & Viewpoint
License
This Journal is published under Creative Commons Attribution Licence 4.0 (CC-BY).




License scheme | Legal code

This License allows anyone to:
Share: copy and redistribute the material in any medium or format.
Adapt: remix, transform, and build upon the material for any purpose, even commercially.

Under the following terms
Attribution: Users must give appropriate credit, provide a link to the license, and indicate if changes were made; users may do so in any reasonable manner, but not in any way that suggests the licensor endorses them or their use.
No additional restrictions: Users may not apply legal terms or technological measures that legally restrict others from doing anything the license permits.

Notices
Users do not have to comply with the license for elements of the material in the public domain or where your use is permitted by an applicable exception or limitation.
No warranties are given. The license may not give users all of the permissions necessary for their intended use. For example, other rights such as publicity, privacy, or moral rights may limit how you use the material.