The blue of the sky: Carlo Scarpa a Palermo
Keywords:
place, light, cut-out
Abstract
Seek the blue of the sky – this is an exhortation from Carlo Scarpa to comprehend being part of a place. In particular, in the re-adaptation of Palazzo Abatellis, he proposed solutions and hypotheses for its re–use in order to redefine an organizational principle upon which to base the existing space and from which rules emerge which, in his treatment, give meaning to the entire physical and visible environment.
Downloads
Download data is not yet available.
Article Metrics Graph
References
Barbera, G. (2004), "Carlo Scarpa a Messina: l'allestimento della mostra antonelliana (1953) e il progetto non realizzato del Museo Nazionale (1974-1976)", in Forster, K. W. and Marini, P. (2004), Studi su Carlo Scarpa, 2000-2002, Regione del Veneto – Marsilio, Venezia, p. 289.
Calandra, R. (1991), "Il palazzo Chiaramonte o lo Steri di Palermo", in Demetra, semestrale degli architetti di Enna, n. 1.
Dal Co, F. (2006), "Carlo Scarpa. Appunti per una biografia critica", in Casabella, n. 742.
Dal Co, F. and Mazzariol, G. (1984), Carlo Scarpa. Opera completa, Electa, Milano.
Duboÿ, P. (2007), "Carlo Scarpa lo Steri di Palermo", in Abitare, n. 474.
Giunta, S. (2016), Carlo Scarpa. Una [curiosa] lama di luce, un gonfalone d'oro, le mani e un viso di donna. Riflessioni sul processo progettuale per l'allestimento di Palazzo Abatellis, 1953-1954, Marsilio, Venezia.
Gregotti, V. (2000), Sulle orme di Palladio, Laterza, Roma-Bari.
Lanzarini, O. (2003), Carlo Scarpa. L'architetto e le arti. Gli anni della Biennale di Venezia 1948-1972, Regione del Veneto – Marsilio, Venezia.
Lima, A. I. (ed.) (2006), Lo Steri di Palermo nel secondo Novecento. Dagli studi di Giuseppe Spatriano al progetto di Roberto Calandra con la consulenza di Carlo Scarpa, Diario Flaccovio Editore, Palermo.
Marcianò, A. F. (ed.) (1984), Carlo Scarpa, Serie di Architettura/15, Zanichelli, Milano.
Marini, P. (2000), "Mostra Antonello da Messina e la pittura del '400 in Sicilia", in Beltramini, G., Forster, K. W. and Marini, P. (eds), Carlo Scarpa. Mostre e musei 1944-1976. Case e paesaggi 1972-1978, Electa, Milano, pp. 120-125.
Mazzariol G. (1955), "Opere di Carlo Scarpa", in L'architettura – cronache e storia, n. 3.
Meli, F. (1939), Matteo Carnilivari e l'architettura del '400 e '500 in Palermo, Palombi, Roma.
Morello, P. (1989), Il museo di Carlo Scarpa. Dal restauro del palazzo all'allestimento della Galleria.
Morello, P. (1989), Palazzo Abatellis. Il maragma del Maestro Portulano da Matteo Carnilivari a Carlo Scarpa, Grafiche Vianello, Ponzano/Treviso.
Nobile, M. R. (ed.) (2006), Matteo Carnilivari. Pere Compte. Due maestri del gotico nel Mediterraneo, Edizioni Caracol, Palermo.
Polano, S. (1989), Carlo Scarpa: Palazzo Abatellis. La galleria della Sicilia, Palermo 1953-54, Electa, Milan.
Ponti, G. (1957), Amate l'architettura. L'architettura è un cristallo, Società editrice Vitali e Ghianda, Genova.
Scarpa, C. (Franca Semi ed.), "Volevo ritagliare l'azzurro del cielo", in Rassegna, n. 7, luglio 1981, pp. 82-85.
Ziino, V. (1982), "Nuovi documenti sull'attività edilizia in Sicilia nel '400 e nel '500", in Caronia, G. (ed.), Vittorio Ziino Architetto, Stass, Palermo, pp. 73-94.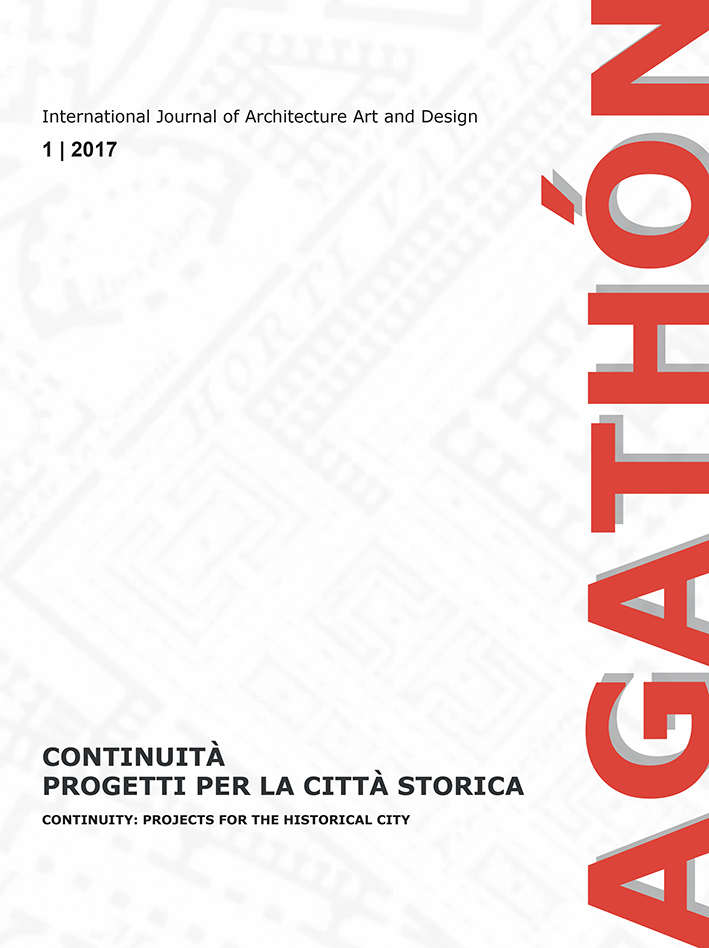 Downloads
How to Cite
Giunta, S. (2017) "The blue of the sky: Carlo Scarpa a Palermo", AGATHÓN | International Journal of Architecture, Art and Design, 1(online), pp. 69–76. doi: 10.19229/2464-9309/1112017.
Section
Architecture | Essays & Viewpoint
License
This Journal is published under Creative Commons Attribution Licence 4.0 (CC-BY).




License scheme | Legal code

This License allows anyone to:
Share: copy and redistribute the material in any medium or format.
Adapt: remix, transform, and build upon the material for any purpose, even commercially.

Under the following terms
Attribution: Users must give appropriate credit, provide a link to the license, and indicate if changes were made; users may do so in any reasonable manner, but not in any way that suggests the licensor endorses them or their use.
No additional restrictions: Users may not apply legal terms or technological measures that legally restrict others from doing anything the license permits.

Notices
Users do not have to comply with the license for elements of the material in the public domain or where your use is permitted by an applicable exception or limitation.
No warranties are given. The license may not give users all of the permissions necessary for their intended use. For example, other rights such as publicity, privacy, or moral rights may limit how you use the material.