Adaptive Buenos Aires. Architecture between diversity and demand of modernity
Keywords:
Buenos Aires, globalization, place, global city, transformation
Abstract
In the 21st century, the processes linked to globalization bring significant changes to the way humans inhabit places influencing architectural design. The following essay presents the city of Buenos Aires as an example of Resilience towards cultural diversity and the demand for modernity proper to a global city. Three particular architectural phenomena can be identified – the rascacielo, the villa miseria and the chorizo house – architectures and spaces of the city capable of responding, more or less positively, to the changes brought by the new condition of global culture.
Downloads
Download data is not yet available.
Article Metrics Graph
References
Bauman, Z. (2005), Globalizzazione e Glocalizzazione [orig. ed. The Bauman reader, 2001], Armando Editore, Roma.
Bonicatto, V. (2019), "The horizon as a privilege. Tall buildings in Buenos Aires during the first decades of the twentieth century", in Area, n. 162, pp. 22-29.
Cremaschi, M. (2016), "La griglia, le baracche, le torri neoliberali: la 'modernità informale' di Buenos Aires", in Pravadelli, V. (ed.), Modernità delle Americhe, RomaTrE-Press, Roma, pp. 59-79. [Online] Available at: romatrepress.uniroma3.it/ojs/index.php/americhe/article/view/44 [Accessed 2nd November 2019].
De Magistris, A. and Zanetti, U. (2019), "Buenos Aires. The metropolis that started twice", in Area, n. 162, pp. 2-11.
Frampton, K. (1983), "Towards a Critical Regionalism: Six Point for an Architecture of Resistance", in Foster, H. (ed.), The anti-Aesthetics – Essays on postmodern culture, Bay Press, Port Townsend, pp. 16-30.
Giddens, A. (1990), The Consequences of Modernity, Stanford University Press, Stanford.
Ibelings, H. (2001), Supermodernismo – L'architettura nell'età della globalizzazione [orig. ed. Supermodernism – Architecture in the age of globalization, 1998], Castelvecchi, Roma.
Jullien, F. (2018), L'identità culturale non esiste, Einaudi, Torino.
King, A. D. (2004), Spaces of Global Cultures. Architecture Urbanism Identity, Routledge, London. [Online] Available at: doi.org/10.4324/9780203483121 [Accessed 2 November 2019].
Koolhaas, R. (2006), Junkspace, Quodlibet, Macerata.
Koolhaas, R. and Mau, B. (1995), S,M,L,XL, The Monacelli Press, New York.
Latour, B. (2018), Tracciare la rotta – Come orientarsi in politica [orig. ed. Où atterrir? Comment se orienter en politique, 2017], Raffaello Cortina Editore, Milano.
Lefaivre, L. and Tzonis, A. (2003), Critical Regionalism – Architecture and Identity in a Globalized World, Prestel Verlag, Munich.
Liernur, J. F. (ed.) (2017), Adamo-Faiden. 2007-2017, Libria, Melfi.
Liernur, J. F. and Muñoa, N. (2019), "Interview to Eduardo Reese and Liliana Carbajal", in Area, n. 162, pp. 68-71.
Marco, J. M. and Merì de la Maza, R. (eds) (2018), Adamo-Faiden – El Constructor Contemporáneo 2007-2018, General de Ediciones de Arquitectura, Valencia.
Norberg-Schulz, C. (2016), Genius Loci – Paesaggio Ambiente Architettura, XI edition, Electa, Milano.
Novik, A. (2019), "Buenos Aires, a soft landing city", in Area, n. 162, pp. 14-21.
Parola, F. and Zevi, T. (2019), Le città del futuro in 5 dimensioni: l'indice Domus-ISPI. [Online] Available at: www.ispionline.it/it/pubblicazione/le-citta-del-futuro-5-dimensioni-lindice-domus-ispi-24243 [Accessed 12 November 2019].
Perulli, P. (2017), A Sud del mondo – Buenos Aires. [Online] Available at: www.doppiozero.com/materiali/sud-del-mondo-buenos-aires [Accessed 2 November 2019].
Perulli, P. (2009), Visioni di città – Le forme del mondo spaziale, Einaudi, Torino.
Robertson, R. (1992), Globalization – Social Theory and Global Culture, SAGE Publications, London.
Sassen, S. (2010), Le città nell'economia globale [orig. ed. Cities in a World Economy, III edition, 2006], Il Mulino, Bologna.
Sennet, R. (2018), Costruire e abitare – Etica per la città [orig. ed. Building and Dwelling, 2018], Feltrinelli, Milano.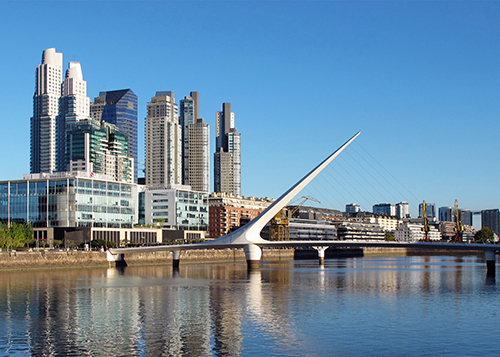 Downloads
How to Cite
Casalbordino, F. (2019) "Adaptive Buenos Aires. Architecture between diversity and demand of modernity", AGATHÓN | International Journal of Architecture, Art and Design, 6(online), pp. 66–79. doi: 10.19229/2464-9309/672019.
Section
Architecture | Essays & Viewpoint
License
This Journal is published under Creative Commons Attribution Licence 4.0 (CC-BY).




License scheme | Legal code

This License allows anyone to:
Share: copy and redistribute the material in any medium or format.
Adapt: remix, transform, and build upon the material for any purpose, even commercially.

Under the following terms
Attribution: Users must give appropriate credit, provide a link to the license, and indicate if changes were made; users may do so in any reasonable manner, but not in any way that suggests the licensor endorses them or their use.
No additional restrictions: Users may not apply legal terms or technological measures that legally restrict others from doing anything the license permits.

Notices
Users do not have to comply with the license for elements of the material in the public domain or where your use is permitted by an applicable exception or limitation.
No warranties are given. The license may not give users all of the permissions necessary for their intended use. For example, other rights such as publicity, privacy, or moral rights may limit how you use the material.