For the categorisation of historic buildings to determine energy saving
Keywords:
building categorisation, cultural values, energy saving
Abstract
Technical characteristics and cultural values affect the possibility of saving energy in the historic building stock. The issue has been addressed and studied in monumental buildings. For the majority of historic buildings, defined in this research as traditional constructions built before 1945 when the building sector became more industrialised, there is still a need for further studies. The aim of this article is to present the development of a method to categorise a historic building stock with the ability to identify the potential for energy saving and preservation of cultural values. This study has been conducted within the multi-disciplinary projects Potential and policies for energy efficiency in Swedish buildings built before 1945, financed by the Swedish Energy Agency and Energy Efficiency for EU Historic Districts, funded by the European Commission under its Seventh Framework Programme.
Downloads
Download data is not yet available.
Article Metrics Graph
References
Ballarini, I., Corgnati, S. P. and Corrado, V. (2014), "Use of reference buildings to assess the energy saving potentials of the residential building stock: the experience of TABULA project", in Energy Policy, vol. 68, maggio 2014, pp. 273–284.
Ballarini, I., Corgnati, S.P., Corrado, V. and Talà, N. (2011), "Improving energy modeling of large building stock through the development of archetype buildings", in Proceedings of Building Simulation 2011 – Driving better design through simulation, Sydney (Australia), 14-16 novembre 2011.
Berg, F. (2015), Categorising a historic building stock – an interdisciplinary approach, Tesi di Master, Uppsala Universitet.
Berg, F., Genova, E. and Broström, T. (2016), "Interdisciplinary building categorization – A method to support sustainable energy efficiency strategies in historic districts", in CESB16 – Central Europe towards Sustainable Building 2016, pp. 41-48.
Broström, T., Eriksson, P., Liu, L., Rohdin, P., Ståhl, F. and Moshfegh, B. (2014), "A Method to Assess the Potential for and Consequences of Energy Retrofits in Swedish Historic Buildings", in The Historic Environment, vol. 5, n. 2, pp. 150-166.
Energi i bebyggelsen - tekniska egenskaper och beräkningar - resultat från projektet BETSI, Swedish National Board of Housing, Building and Planning, 2010. [Online] Document Available at: www.boverket.se/Global/Webbokhandel/Dokument/2011/BETSI-Energi-i-bebyggelsen.pdf [Accessed 31 January 2014].
Mata, É., Kalagasidis, A. S. and Johnsson, F. (2013), "A modelling strategy for energy, carbon, and cost assessments of building stocks", in Energy and Buildings, vol. 56, pp. 100-108.
Ståhl F., Lundh M. and Ylmén P. (2011), Hållbar och varsam renovering och energieffektivisering av kulturhistoriskt värdefulla byggnader - en förstudie, SP Rapport 2011:48.
Ståhl F., Sikander E. and Gustavsson T. (2014), Energibesparingspotential och byggnadsfysikaliska konsekvenser vid energieffektivisering i svenska byggnader byggda före 1945, SP Rapport 2014:56.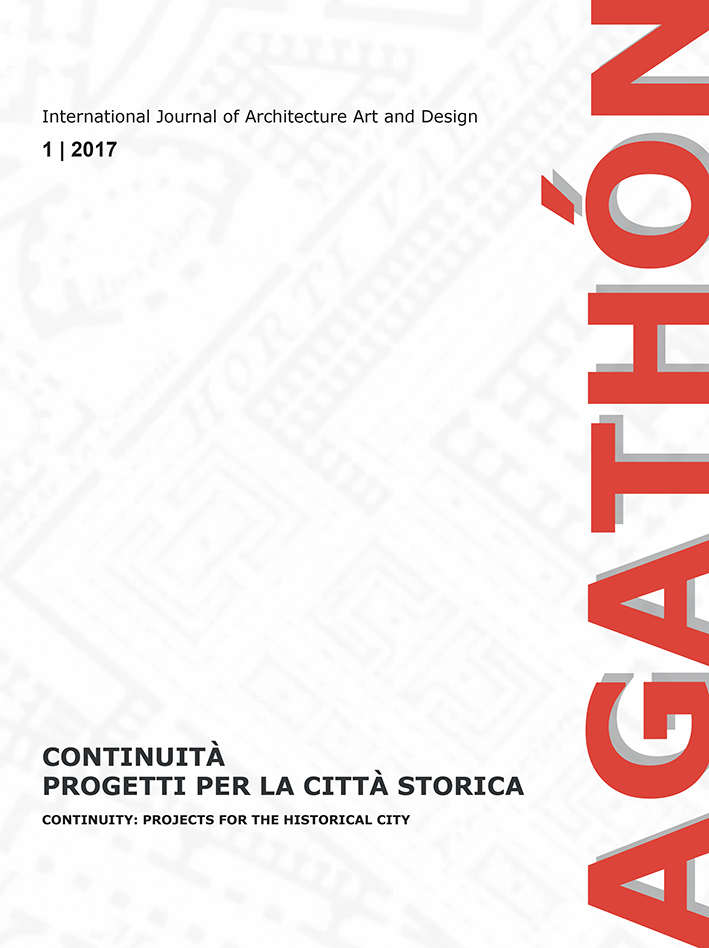 Downloads
How to Cite
Broström, T., Donarelli, A. and Berg, F. . (2017) "For the categorisation of historic buildings to determine energy saving", AGATHÓN | International Journal of Architecture, Art and Design, 1(online), pp. 135–142. doi: 10.19229/2464-9309/1212017.
Section
Architecture | Research & Experimentation
License
This Journal is published under Creative Commons Attribution Licence 4.0 (CC-BY).




License scheme | Legal code

This License allows anyone to:
Share: copy and redistribute the material in any medium or format.
Adapt: remix, transform, and build upon the material for any purpose, even commercially.

Under the following terms
Attribution: Users must give appropriate credit, provide a link to the license, and indicate if changes were made; users may do so in any reasonable manner, but not in any way that suggests the licensor endorses them or their use.
No additional restrictions: Users may not apply legal terms or technological measures that legally restrict others from doing anything the license permits.

Notices
Users do not have to comply with the license for elements of the material in the public domain or where your use is permitted by an applicable exception or limitation.
No warranties are given. The license may not give users all of the permissions necessary for their intended use. For example, other rights such as publicity, privacy, or moral rights may limit how you use the material.