Three case studies in virtual preservation. Applying virtual reality to Cultural Heritage
Kai Reaver

The Oslo School of Architecture and Design
Keywords:
preservation, experimental, virtual reality, virtual preservation, 3D scanners
Abstract
The paper documents three case studies researching the techniques of Virtual Preservation upon various Cultural Heritage sites in order to preserve material aspects that, in the near future, can be irreparably damaged by the impact of climate change. Through the use of 3D scanners, photogrammetry, virtual and reality, and rendering software, the study documents how emerging technologies may be used together to digitally recreate full-scale Cultural Assets, for digital exhibition and archival. Although Virtual Preservation demands a substantial change of established working methods and tools, the paper argues that the realism obtained can compensate for the loss of the material of the Asset and still allow future generations to experience Cultural Heritage sites. The article concludes on illustrating the limitations and strengths of the study and foreseeing that Virtual Preservation can help experts to establish guidelines integrating virtual reality into traditional practice.
Downloads
References
Aubrey, D. (2013), Theories of Architectural Conservation – A Guest Post by Douglas Read. [Online] Available at: vialucispress.wordpress.com/2013/02/01/theories-of-architectural-conservation-a-guest-post-by-douglas-read/ [Accessed 25 October 2019].
Barford, W. (ed.) (2017), Fundamentals of Wearable Computers and Augmented Reality, 2nd edition, CRC Press, Boca Raton (USA).
Bratton, B. H. (2016), The Stack – On Software and Sovereignty, MIT Press, Cambridge (MA).
Buthke, J., Larsen, N. M., Pedersen, S. O. and Bundgaard, C. (2020), "Adaptive Reuse of Architectural Heritage", in Gengnagel, C., Baverel, O., Burry, J., Ramsgaard Thomsen, M. and Weinzierl, S. (eds), Impact – Design with All Senses. DMSB 2019, Springer, Cham, pp. 59-68. [Online] Available at: doi.org/10.1007/978-3-030-29829-6_5 [Accessed 30 October 2019].
Colette, A. (ed.) (2007), Climate Change and World Heritage – Report on predicting and managing the impacts of climate change on World Heritage and Strategy to assist States Parties to implement appropriate management responses, Report 22, UNESCO World Heritage Centre. [Online] Available at: whc.unesco.org/document/8874 [Accessed 3 November 2019].
de Lange, M. and de Waal, M. (eds) (2019), The Hackable City – Digital Media and Collaborative City-Making in the Network Society, Springer, Singapore. [Online] Available at: link.springer.com/book/10.1007/978-981-13-2694-3 [Accessed 3rd November 2019].
EAAE – European Association of Architectural Education (2012), EAAE Charter on Architectural Research. [Online] Available at: www.eaae.be/about/statutes-and-charter/eaae-charter-architectural-research/ [Accessed 20 October 2019].
Graham, J., Blanchfield, C., Anderson, A., Carver, J. and Moore, J. (eds) (2016), Climates – Architecture and the Planetary Imaginary, Lars Müller Publishers, Baden.
Gruber, S. (2011), "The Impact of Climate Change on Cultural Heritage Sites: Environmental Law and Adaptation", in Carbon and Climate Law Review, vol. 5, issue 2, pp. 209-219. [Online] Available at: doi.org/10.21552/CCLR/2011/2/181 [Accessed 20 October 2019].
Negussie, E. (ed.) (2012), Changing World, Changing Views of Heritage: heritage and social change – Proceedings of the ICOMOS Scientific Symposium, 30 October 2010, Dublin, Ireland. [Online] Available at: www.icomos.org/images/DOCUMENTS/ADCOM/ICOMOS_Scientific_ Symposium_DUBLIN_2010.pdf [Accessed 10 September 2019].
Otero-Pailos, J., Fenstad Langdalen, E. and Arrhenius, T. (eds) (2016), Experimental Preservation, Lars Müller Publishers, Baden.
Picon, A. (2015), Smart Cities – A Spatialised Intelligence, Wiley, Hoboken.
Sesana, E., Gagnon, A. S., Bertolin, C. and Hughes, J. (2018), "Adapting Cultural Heritage to Climate Change Risks: Perspectives of Cultural Heritage Experts in Europe", in Geosciences, vol. 8, issue 8, pp. 1-23. [Online] Available at: doi.org/10.3390/geosciences8080305 [Accessed 10 September 2019].
Sposito, C. and Scalisi, F. (2018), "Processo conservativo e significatività. Un approccio metodologico per la progettazione dei sistemi di protezione nei siti archeologici | Conservation process and significance. A methodological approach to plan shelters in archaeological sites", in Agathón | International Journal of Architecture, Art and Design, vol. 4, pp. 45-58. [Online] Available at: doi.org/10.19229/2464-9309/462018 [Accessed 19 November 2019].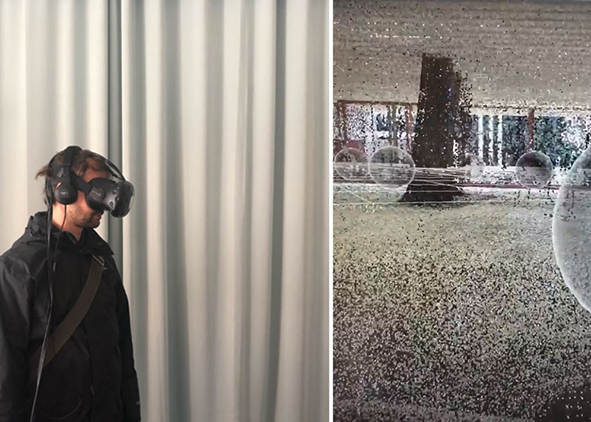 How to Cite
Reaver, K. (2019) "Three case studies in virtual preservation. Applying virtual reality to Cultural Heritage", AGATHÓN | International Journal of Architecture, Art and Design, 6(online), pp. 210-217. doi: 10.19229/2464-9309/6202019.
Section
Architecture | Research & Experimentation
This Journal is published under Creative Commons Attribution Licence 4.0 (CC-BY).




License scheme | Legal code

This License allows anyone to:
Share: copy and redistribute the material in any medium or format.
Adapt: remix, transform, and build upon the material for any purpose, even commercially.

Under the following terms
Attribution: Users must give appropriate credit, provide a link to the license, and indicate if changes were made; users may do so in any reasonable manner, but not in any way that suggests the licensor endorses them or their use.
No additional restrictions: Users may not apply legal terms or technological measures that legally restrict others from doing anything the license permits.

Notices
Users do not have to comply with the license for elements of the material in the public domain or where your use is permitted by an applicable exception or limitation.
No warranties are given. The license may not give users all of the permissions necessary for their intended use. For example, other rights such as publicity, privacy, or moral rights may limit how you use the material.