Building with Plastic. A New Possible Solution for the Environment
Daniela Besana

University of Pavia

Claudia Ferrari
Keywords:
plastic, recycle, PET bottles, circular economy, waste management
Abstract
The research concerns a possible way for recycling plastic bottles as construction material, as an additional reuse circuit. Following a preliminary critical analysis of case studies to highlight the possible design variables, an innovative method which uses plastic bottles for the construction of load-bearing walls is proposed. Models of different constructive solutions have been designed and built, up to the proposal of a module of four bottles, filled with sand and tied together. Laboratory compression tests have shown the strength of the basic module and a f.e.m. analysis has demonstrated the stability of the structure. These first results encourage to other more accurate analysis and testify its potential versatility as building material and exportability of use even in different contexts, at a social, economic and environmental level.
Downloads
References
Anyanka, U. (2011), Nigeria recycles plastic bottle, into housing! [Online] Available at: greennigeria.wordpress.com/2011/08/12 [Accessed 10 April 2019].
Campioli, A. and Lavagna, M. (2013), "Innovazione ambientale dei processi di trasformazione del costruito e ciclo di vita", in Techne | Environment Emergency, vol. 5, pp. 66-73.
Chen, Q. et alii (2017), "Pollutants in Plastics within the North Pacific Subtropical Gyre", in Environmental Science and Technology, vol. 52, n. 2, pp. 446-456. [Online] Available at: doi.org/10.1021/acs.est.7b04682 [Accessed 29 April 2019].
Chun, A. M. S. and Brisson, I. E. (2015), Ground Rules in Humanitarian Design, John Wiley & Sons, New Jersey.
Container Recycling Institute, Plastic Facts & Statistics. [Online] Available at: www.container-recycling.org/index.php/factsstatistics/plastic [Accessed 10 April 2019].
Ferrari, C. (2016), Progettare con le bottiglie di plastica – proposta per un padiglione a città del Messico, Master Degree Thesis in Engineering and Architecture, Università di Pavia.
Geyer, R., Jambeck, J. R. and Law, K. L. (2017), "Production, use and fate of all plastic ever made", in Science Advances, vol. 3, n. 7, pp. 1-5. [Online] Available at: advances.sciencemag.org/content/3/7/e1700782 [Accessed 10 April 2019].
Kusimwiragi, K. (2011), Investigating the Compressive Strength of Plastic Bottles as Masonry, Uganda University. [Online] Available at: www.eco-tecnologia.com/phocadownload/descargas/k.kalumire_thesis.pdf [Accessed 29 April 2019].
Mansour, A. M. and Ali, S. A. (2015), "Reusing waste plastic bottle as an alternative sustainable building material", in Energy for Sustainable Development, vol. 24, pp. 79-85.
Lebreton, L. C. M. et alii (2018), "Evidence that the Great Pacific Garbage Patch is rapidly accumulating plastic", in Scientific Reports 8, article n. 4666. [Online] Available at: doi.org/10.1038/s41598-018-22939-w [Accessed 29 April 2019].
Plastics Europe (2018), Plastics: the facts 2018 – An analysis of European plastics production, demand and waste data. [Online] Available at: issuu.com/plasticseuropeebook/docs/plastics_the_facts_2018-_afweb [Accessed 29/04/2019].
Ruiz Valencia, D., Lopez Perez, C., Cortes, E. and Froese, A. (2012), "Nuevas alternativas el la construcion: botellas PET con relleno de tierra", in Apuntes – Revista de Estudio sobre Patrimonio Cultural-Juornal of Cultural Heritage Studies, vol. 25, issue 2, pp. 292-303.
Sadat-Shojai, M. and Bakhshandeh, G. R. (2011), "Recycling of PVC wastes", in Polymer Degradation and Stability, vol. 96, pp. 404-415.
Sharma, H. (2017), "Innovative and Sustainable Application of PET Bottle a Green Construction Overview", in Indian Journal of Science and Technology, vol. 10, issue 16, pp. 1-6.
Taaffe, J., O'Sullivan, S., Rahman, M. E. and Pakrashi, V. (2014), "Experimental characterization of Polyethylene Terephthalate (PET) bottle Eco-bricks", in Materials & Design, vol. 60, pp. 50-56.
World Economic Forum, Ellen Mac Arthur Foundation and Mc Kinsey Company (2016), The New Plastic Economy – Rethinking the future of plastic. [Online] Available at: www.ellenmacarthurfoundation.org [Accessed 14 February 2019].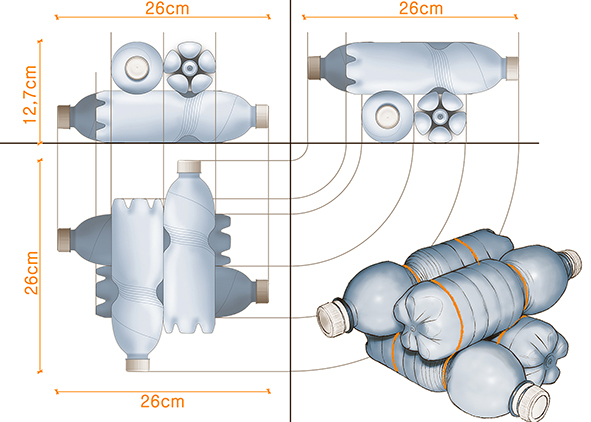 How to Cite
Besana, D. and Ferrari, C. (2019) "Building with Plastic. A New Possible Solution for the Environment", AGATHÓN | International Journal of Architecture, Art and Design, 5(online), pp. 73-82. doi: 10.19229/2464-9309/582019.
Section
Architecture | Research & Experimentation
This Journal is published under Creative Commons Attribution Licence 4.0 (CC-BY).




License scheme | Legal code

This License allows anyone to:
Share: copy and redistribute the material in any medium or format.
Adapt: remix, transform, and build upon the material for any purpose, even commercially.

Under the following terms
Attribution: Users must give appropriate credit, provide a link to the license, and indicate if changes were made; users may do so in any reasonable manner, but not in any way that suggests the licensor endorses them or their use.
No additional restrictions: Users may not apply legal terms or technological measures that legally restrict others from doing anything the license permits.

Notices
Users do not have to comply with the license for elements of the material in the public domain or where your use is permitted by an applicable exception or limitation.
No warranties are given. The license may not give users all of the permissions necessary for their intended use. For example, other rights such as publicity, privacy, or moral rights may limit how you use the material.