Adaptive architecture as mediator between humans and earth
Marie Ulber

HafenCity University Hamburg

Mona Mahall

HafenCity University Hamburg
Keywords:
adaptive architecture, human-earth-relation, mediator, interaction, new design approach
Abstract
This paper describes the potential of adaptive architecture to mediate not only technically but also socially and aesthetically between humans and the environment. Compensating global change through architecture does not change human behaviour; the challenge is to involve and activate each inhabitant. By implementing the principle of adaptation in all dimensions, a step towards a healthy and resilient relationship between humans and earth can be taken. In this holistic approach, historical and contemporary projects in Architecture and Art are discussed and systemic, explorative, social and aesthetic perspectives are taken. As a mediator adaptive architecture makes a global system experienceable in the local, supports its inhabitants to improve their relationship to the Earth and adapt.
Downloads
References
CRC – Collaborative Research Centre 1244 (2017), Adaptive skins and structures for the built environment of tomorrow. [Online] Available at: www.sfb1244.uni-stuttgart.de/en [Accessed 27 August 2019].
Denes, A. (1982), Wheatfield – A Confrontation: Battery Park Landfill, Downtown Manhattan. [Online] Available at: www.agnesdenesstudio.com/works7.html [Accessed 30 October 2019].
Fabrizi, M. (2019), Spatializing Knowledge – Giulio Camillo's Theatre of Memory (1519-1544). [Online] Available at: socks-studio.com/2019/03/03/spatializing-knowledge-giulio-camillos-theatre-of-memory-1519-1544/ [Accessed 30 October 2019].
Fox, M. (2016), Interactive architecture – Adaptive world, Princeton Architectural Press, New York.
Fox, M. and Kemp, M. (2009), Interactive architecture, Princeton Architectural Press, New York.
Herdt, T. (2012), Die Stadt und die Architektur des Wandels – Projekte und Konzepte des britischen Architekten Cedric Price 1960 – ca. 1984, Doctoral Thesis, ETH, Zürich. [Online] Available at: www.research-collection.ethz.ch/handle/20.500.11850/153694 [Accessed 12 October 2019].
Hill, J. (2018), Skyscraper – Vom Tribune Tower in Chicago bis zum Burj Khalifa in Dubai, Deutsche Verlags-Anstalt, München.
ICD – Institute for Computational Design and Construction (2013), HygroSkin – Meteorosensitive Pavilion. [Online] Available at: icd.uni-stuttgart.de/?p=9869 [Accessed 27 August 2019].
Kusama, Y. (2016), Give me Love, David Zwirner Books, New York.
Mattingly, M. (2008), The Origins and Evolution of the Waterpod. [Online] Available at: www.thewaterpod.org/mm.html [Accessed 27 August 2019].
Perlus, B. (2005), Architecture in the Service of Science – The Astronomical Observatories of Jai Singh II. [Online] Available at: www.jantarmantar.org/resources/Articles/Architecture_Science_web.pdf [Accessed 30 October 2019].
Schmidt III, R. and Austin, S. (2016), Adaptable Architecture – Theory and practice, Routledge, London-New York.
Serres, M. (1994), Der Naturvertrag, Suhrkamp Verlag, Berlin.
Shanken, E. A. (ed.) (2009), Art and Electronic Media, Phaidon, London.
Sobeck, W. (2016), "Ultraleichtbau | Ultra-Lightweight Construction", in Peters, S. and Trummer, A. (eds), GAM.12 – Structural Affairs, Birkhäuser, Basel, pp. 156-167. [Online] Available at: www.tugraz.at/en/fakultaeten/architektur/publications/gam-test/gam12/ [Accessed 22 September 2019].
Tate (2003), About the installation: understanding the project. [Online] Available at: www.tate.org.uk/whats-on/tate-modern/exhibition/unilever-series/unilever-series-olafur-eliasson-weather-project-0-0 [Accessed 30 October 2019].
Ursprung, P. (2008), "From Observer to Participant: in Olafur Eliasson's Studio", in Ursprung, P. (ed.), Studio Olafur Eliasson: An Encyclopedia, Taschen, Cologne, pp. 10-19.
Weidner, S. et alii (2018), "The implementation of adaptive elements into an experimental high-rise building", in Steel Construction, vol. 11, issue 2, pp. 109-117. [Online] Available at: onlinelibrary.wiley.com/doi/abs/10.1002/stco.201810019 [Accessed 30 October 2019].
Yoshitake, M. (ed.) (2017), Yayoi Kusama. Infinity mirrors, Prestel, Munich.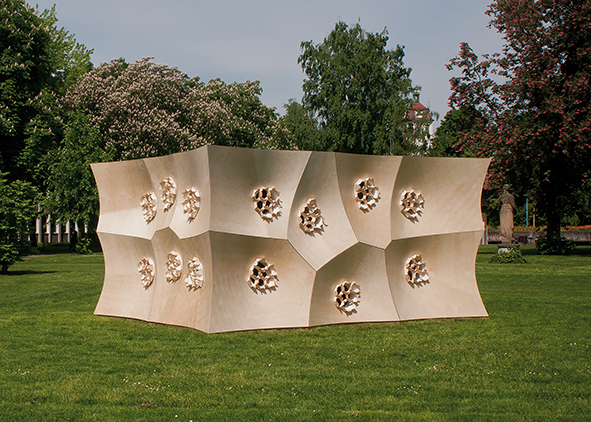 How to Cite
Ulber, M. and Mahall, M. (2019) "Adaptive architecture as mediator between humans and earth", AGATHÓN | International Journal of Architecture, Art and Design, 6(online), pp. 94-103. doi: 10.19229/2464-9309/692019.
Section
Architecture | Essays & Viewpoint
This Journal is published under Creative Commons Attribution Licence 4.0 (CC-BY).




License scheme | Legal code

This License allows anyone to:
Share: copy and redistribute the material in any medium or format.
Adapt: remix, transform, and build upon the material for any purpose, even commercially.

Under the following terms
Attribution: Users must give appropriate credit, provide a link to the license, and indicate if changes were made; users may do so in any reasonable manner, but not in any way that suggests the licensor endorses them or their use.
No additional restrictions: Users may not apply legal terms or technological measures that legally restrict others from doing anything the license permits.

Notices
Users do not have to comply with the license for elements of the material in the public domain or where your use is permitted by an applicable exception or limitation.
No warranties are given. The license may not give users all of the permissions necessary for their intended use. For example, other rights such as publicity, privacy, or moral rights may limit how you use the material.